Good signs from the jobs market: There was a fall in unemployment, according to the Office for National Statistics (ONS).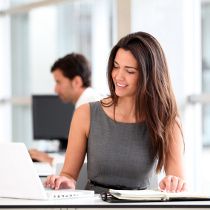 The latest Report on Jobs by the Recruitment and Employment Confederation (REC) and KPMG also shows an increase in temporary staff billings for the first time in nine months. Staff availability rose at a slower pace, which is also a good sign because it means fewer people are being laid off.
Demand for staff from private sector employers rose further, with the stronger rate of expansion signalled for short-term employees. Data showed that healthcare workers were the most sought-after type of employee.
The following companies are hiring this month:
With more than 12,800 employees across 195 sites, with 1,800 vehicles, 2,923 trailers and around 2.5 million square metres of warehousing, Norbert Dentressangle is one of the UK's largest logistics and transport companies.
Available positions: Norbert Dentressangle is hiring drivers, transport co-ordinators, business development managers and more for different locations across the UK.
UPS, or United Parcel Service Inc., is the largest express carrier and package delivery company in the world. Every day UPS manages the flow of goods, funds and information in more than 200 countries and territories worldwide.
Available positions: UPS is hiring multi-drop drivers and in addition has openings in marketing, HR and sales.
O2 UK is part of the Telefónica O2 Europe group and a leading provider of mobile and broadband services to consumers and businesses in the UK. The company is the leader in non-voice services, including text, media messaging, games, music and video, as well as data connections via GPRS, HSDPA, 3G and WLAN.
Available positions: The company is hiring agency retail advisors in O2 stores across the UK.
Hewlett Packard (HP) is the world's largest technology company and operates in more than 170 countries. HP brings together a portfolio that spans printing, personal computing, software, services and IT infrastructure at the convergence of the cloud and connectivity, creating seamless, secure, context-aware experiences for a connected world.
Available positions: Hewlett Packard is hiring software engineers, cloud architects, research associates and many more IT professionals all over the UK.
Hertz is the world's largest vehicle renting organisation and operates from approximately 8,100 locations in 147 countries worldwide. Today, Hertz's worldwide reservations centres handle approximately 40 million phone calls and deliver approximately 30 million reservations annually.
Available positions: Hertz is recruiting customer service representatives throughout Europe.
Itsu's mantra is health and happiness: "Lunch or dinner, in or out, fast or slow". The company has restaurants, shops and offers deliveries of fresh Sushi and salads. Along with their two flagship restaurants, in Chelsea and Notting Hill, itsu has 35 shops in London.
Available positions: Itsu has openings for restaurant managers, assistant managers, general managers, service team members, kitchen team members and hosts/ hostesses for their restaurants in London.
Four Seasons Healthcare is one of the largest independent providers of care services in the United Kingdom. The company owns and operates more than 400 nursing and care homes and specialised care centres in England, Scotland, Northern Ireland and the Isle of Man.
Available positions: Four Seasons Healthcare is currently recruiting registered general and mental nurses, deputy care home managers, charge nurses and unit managers all over the UK.
Premier Oil is a UK-listed upstream oil and gas company with interests in eight countries around the world. The company has operations in the North Sea (offices in Aberdeen and Stavanger), as well as a presence in Asia (offices in Singapore, Ho Chi Minh City and Jakarta), and the Middle East/ Pakistan (offices in Islamabad). The Group had approximately 625 employees as at 31 December 2011, including 239 employees based in the UK and 386 overseas.
Available positions: Premier Oil has open positions for their offices in Aberdeen and London.
Homebase is the UK's second largest home improvement retailer and is recognised for choice, style and customer service across the wider home enhancement market. It has more than 300 large, out-of-town stores throughout the UK and Republic of Ireland, and is planning to add to its store chain with around 15 new stores a year.
Available positions: Homebase is hiring sales consultants, merchandisers, buyers and more for their Milton Keynes head offices and in other locations.
HC-One is one of the largest independent care home operators in the UK, providing a range of care services, encompassing dementia, nursing, residential and specialist care. The company cares for more than 10,000 residents and employs more than 14,000 members of staff.
Available positions: HC-One is hiring nurses, deputy managers and home managers for their care homes across the UK.
Image: © goodluz – Fotolia.com